Because of the work being performed, diesel mechanics play a critical role in keeping a country thriving. A diesel mechanic works on a variety of diesel vehicles to include ships, trains, trucks, buses, and more, all responsible for generating revenue by transporting cargo or people. If job responsibilities are not performed properly, these vehicles would be out of operation, which on a large scale would cripple a country's economy.
Aspects of Diesel Mechanic Jobs
In addition to working on different types of diesel vehicles, actual work performed varies. For example, diesel mechanic jobs include repairing and maintaining cylinder heads, engines, natural gas engines, fuel injection systems, turbochargers, starting systems, and heavy equipment, which would consist of bulldozers, backhoes, graters, pavers, and so on. The overall premise of work involves repair and maintenance but considering that each type of job is somewhat unique, the list of responsibilities is quite long.
Although there are some diesel mechanics that are qualified to work on multiple types of vehicles and perform a variety of job functions, usually, education and training would be geared toward a particular vehicle and type of work. In other words, a diesel mechanic trained to repair and maintain engines of buses would not possess all the necessary qualifications for keeping ships in operation. Again, some knowledge and expertise would be shared across the board but each job would require unique experience.
Getting Started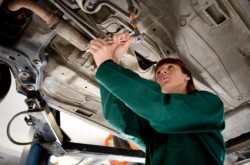 Obviously because of the type of work and level of importance involved, specialized education and training would be critical. However, after completing school and training, many people in this career field actually begin working as an assistant to a diesel mechanic that has years of experience. This kind of apprenticeship is of tremendous value, allowing the less experienced diesel mechanic to gain a wealth of knowledge from someone who has been in the industry for a long time.
The time involved assisting would depend on how quickly a person picked up on job responsibilities, the type of vehicles and work being performed, the company or government agency working for, and the individual overseeing the work performed. However, the person just coming out of diesel mechanic school and training should expect to spend anywhere from three to four years working as an assistant.
In addition to an informal apprenticeship with the hiring company or government entity, a diesel mechanic could choose to complete a formal apprenticeship. This too would take approximately four years to complete
Even after that, completing additional and more advanced training on the job would be considered the norm. Again, there would be many factors involved regarding actual time frame but this usually lasts from 6 to 18 months, sometimes longer when working on more complex vehicle engines. Because the diesel mechanic would be performing work for the employer, any cost associated with the apprenticeship would be covered. In fact, if a diesel mechanic needed to attend classes outside of work, most employers pay for the schooling along with salary.
Looking into the Future
After completing all required education and training, a diesel mechanic has several options for securing diesel mechanic jobs. Now, there are certain schools that offer job placement programs. For this, the individual would be matched up with potential employers based on the types of vehicles and engines qualified to work on. This type of service is so valuable that often, someone interested in becoming a diesel mechanic will only choose schools that have placement programs.
However, diesel mechanic jobs could also be secured by the individual the old-fashioned way. For instance, application directly to manufacturing companies, transportation companies, diesel engine repair shops, government entities, and so on would be an option. To locate diesel mechanic jobs, several mediums could be used to include the Sunday newspaper, state employment services, and of course, the internet.
One important note is that even after securing a diesel mechanic job, for this person to have job stability but also career advancement opportunities, two things would need to happen. First, this person would need to provide consistently high quality work in repairing and maintaining diesel engines. Second, the person should maintain current certification, which is obtained through continuing education. With so many technological advancements in this field, testing every five years would be required to stay certified.